Puerto Rican & Domincan style pernil (roasted pork shoulder)!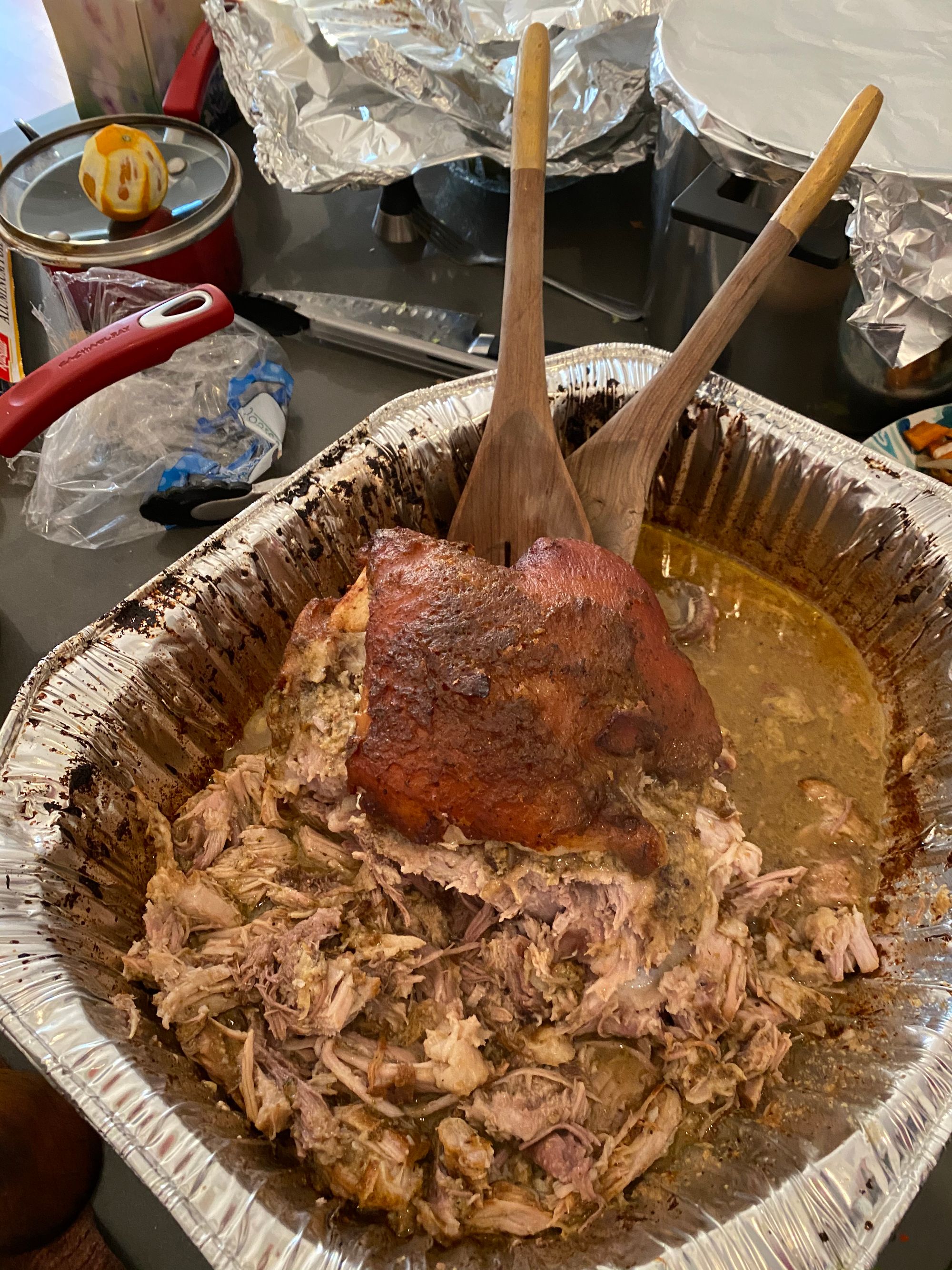 Ingredients
1 pork shoulder with skin (e.g. in this case ~9lb)
28 large garlic cloves (~about 3-4 heads)
1 large red onion
1/4 cup EVOO
1/3 cup orange juice (i.e. 1 large navel orange's juice)
1/3 cup lime juice (i.e. 2 large limes' juice)
1 tbsp oregano (I did reg kind, but apparently Dominican??)
2 tsp black pepper
2 tsp thyme
2 tsp cumin
1 chicken bullion cube or packet
1/2 tbsp kosher salt per lb of meat (e.g. in this case 4.5 tbsp)
Directions
Blend all the ingredients until smooth minus about 8 cloves.
As best as possible detach skin from the meat, ideally starting from one corner and pulling, leave a little portion attached (the part where it starts to go on the underside is ideal).
With your knife score crosses around 3-4 inches from each other, and go as deep as you can into the meat.
Pour marinade all over meat and get it into the holes you made as well, really stuff it in there. Coat both sides of skin too!
Place 4-5 cloves of garlic on each side of meat into those holes.
Cover meat and refrigerate overnight.
[Next day!]
Boil meat with ~2 cups water in large pot skin side up for about 45 mins.
In a roasting pan covered in aluminum foil bake at 350 for 3hrs. Basting every hour.
After 3 hours check if juices are running clear. If clear, uncover and bake for another 1hr 15min and raise temp to 425. Take out half of the juice and save for later. If not, do another 45m to 1hr covered.
Broil for 5-10m to get the skin extra crispy.
Let it sit for 15-30min to let juices redistribute internally.
If/when you shred it all up (and putting crispy skin separate) use the juice you took out and pour it all over.
Notes
Don't put too much rub on top once it starts roasting, it won't let the skin get crispy (maybe baste it away after the first hour of roasting?)